Mois de la Photo is a visual overload in Paris. The veritable smorgasbord presented is more than one can handle on any month long orgy. Whilst the highlight of the oversubscribed, and somewhat overhyped Paris Photo, may warrant queueing in the rain for, it is the smaller, citywide scattering of diversity that I enjoy visiting. I've attended "fringe" events Photo Off , the emerging artists space, and also Photobook talks and workshops at  PictureTank, as part of fotobookfest.
 The "Guide des expositions" conveniently arranges venues by arrondissement and is handy to tote in your pocket if heading out for the day.  One dull afternoon I attempted to cover a region of the 3rd and 4th quartiers. I managed 5 galleries before my mind become saturated and I could no longer take cognisance of any further imagery requiring interpretation. Sometimes you just like to be hit in the face with a photo and not a have to consider the "petite devinettes" of some artists.
 To that end I can recommend a little trail that is worth an amble.
 After jumping off at Saint Paul I headed to the Galerie des Bibliotheques de la Ville de Paris, 22 rue Mahler, 4e (www.paris-bibliotheques.org) for PARIS – Champ & Hors Champs. With an entree fee of €6 it is worth taking it slowly, picking up the explanatory catalogue and taking your time to saunter around the expansive and methodically planned exhibition drawn from the city's cultural archives. It is nice to see an exhibition themed and it is important to understand what you are looking at before you launch yourself in to visuals that may make no sense individually but sit better within a collective. Along with the well knowns, Bruce Davidson, William Klein, Sarah Moon and Martin Parr among others, there is a plethora of visual artists that were unknown to me. I can honestly say that a few still remain unknown to me as their work didn't inspire in this context. Perhaps in their own series their talent would shine more. Or maybe not?
The sequence of the stream here is loosely based on an Italo Calvino novel, embracing ten themes. I think it was carried out quite well. Though I still have problems with video art, looping long sequences that I find monotonous, unless you are under the influence. My mindset isn't stationed there.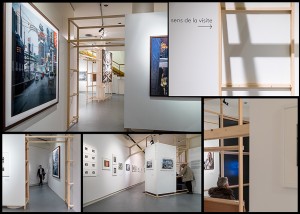 Tuija Lindstrom is a Finish born, Sweden based, photographer whose retrospective of work from 1980-87 is exhibited in the Institut suédois (www.institutsuedois.fr), 11, rue Payenne 3e, under the title "A Dream If Ever There Was One".
The institute itself is a lovely space, opposite the quaint Square George Cain and surrounding a typical cobbled courtyard with a nice little coffee shop. Too early for me to break yet and test the coffee so I ventured straight in to the two rooms housing the photos.
The first impression one gets is the choice of presentation style taken by the artist. The images are relatively modest in size and housed with transparent photo corners inside uniform box frames. I liked it. No impactful, upsized pieces here.
The simplicity of her work in her early stages of learning analogue photography show the phases of experimentation and exploration that most photographers will recognise in their own journeys. It inspired me to take a trip back through my early negatives. She has a lovely eye and captures that which she seeks.
Richard Schroeder and Sacha Van Dorssen are two names in the fashion and celebrity industry that are well known for their interpretative and highly publishable imagery that have appeared in most of the eye level magazine rack journals. Richard has worked in the fashion, music and film industries and created enviable images enhanced by the celebrated subjects. Sacha too has shot fashion portfolios for many of the top marques and magazines.
The galerie Sit Down (www.sitdown.fr), 4 rue Sainte-Anastase, 3e, chose to show collections from both of these mainstream photographers that venture on a different theme from their normal commercial work. A good choice too.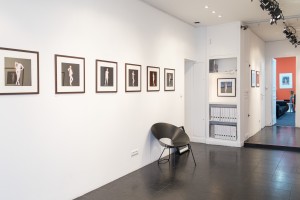 Richard Schroeder's series "Vénus – I'm not like everybody else" adorns the front room of the galerie and rightly so. It needs the perimetric space to house the nudes of redheaded ladies that are all different, unlike everybody else, and yet at the same time, the same as each other. That dichotomy is presented in a uniform treatment of skin tone and lighting. A paradigm that plays out well here. Beautiful.
Sacha's work is, well, in the back office? It feels a bit this way as you enter the back room, a space expanded to house a further exhibition.
Her collection here is again a total departure from her early highly lauded fashion work. Instead she has enjoyed the role of observer whilst shooting in Morocco where she settled in the 60's. She shot these mostly/entirely (?) on Kodachrome, hence the exhibition name Sensibilité 64 ASA (the speed rating of the Kodachrome used). Here her pieces are un-choreographed, without manipulation, documentative, with just her eye and her camera to record the life surrounding her. Whilst many of the images are catchy and quirky, to me others lack the sharpness and responsiveness of more accomplished "street" or "documentary" photographers.
I find being highly skilled in one field of photography should not automatically make you a master in others. Quite a few of the images have a snapshot feel that make one question their relevance in the collection.
A short stroll around the corner to 5 rue du Perche, 3e at the Galerie David Guirard (www.galerie-david-guiraud.com) will provide you a striking contrast to Richard Schroeder's beauteous Venuses in the form of Le Corps Masculin. A wonderful photographic record of the male body from the early pioneering Animal Locomotion series (1887) of Eadweard Muybridge, and Vincenzo Galdi's erotic work of well endowed giovanis from the 1900s, to more interpretative pieces of Arthur Tress among others. If you can't quite stretch to €16k to drop on an Andy Warhol original polaroid, you could pick up a couple of gorgeous Herb Ritts pieces, a steal at just €6k each leaving you €4k to play with!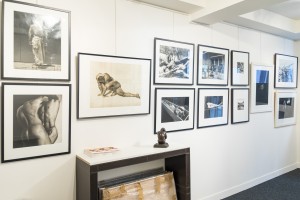 Time to take a quick coffee break at the Rose Bakery (30 rue Debelleyme, 3e) en-route to:
Galerie Les Filles du Calvaire, 19 rue des Filles du Calvaire, 3e (www.fillesducalvaire.com) a beautiful lumineux, two story space hidden at the back of another cour typique housing a two man, two part exhibition, similarly themed, by British Matt Wilson and American Mike Brodie.
Mike Brodie's gritty road trip images, sardonically named "A Period of Juvenile Prosperity", document a harsh storyline of the train hopping, squat living grungy lifestyle and appear as if he shoots from where he lay, a point of view literality that could not have been acquired by a group outsider. It is an eye opening reality that matures from his reputation as the "Polaroid Kidd", a moniker and graffiti tag earned when he received a polaroid camera at age 19.
The photo book produced after penetrating these mores, and amassing a chronicle of photographs, earned commendations and accolades from Alec Soth, Martin Parr and Gerry Badger among others. Whilst the collection of photos are compelling, the rest of the series in the book show an insightful darkness and poverty that the viewer can only be thankful they are flicking through rather than partaking in.
Matt Wilson's multiple series melange appears in the gallery upstairs as a singular collection "This Place Called Home" spanning from 1994 to 2011. It seems to be a retrospective collection from varying trips and confusingly labelled. As a narrative it is a little unclear and I would love to see the individual series defined. A superb body of work, it is clear Matt's development was of his imagination and technique, as he has always had a fantastic eye from the genesis of his vocation.
Once again, like Tuija Lindstrom's photographs, they are presented modestly, drawing you in closer to examine the depth and intimacy of meaning. I think I've read correctly that some of his image treatments and presentation may have been through using unusable film, out of date or damaged perhaps? I'm not sure I have the right interpretation of the French biography here. Nevertheless, his themes, spontaneous, carry through an interpretation obviously inspired by a sense of place or time. Thematic, they work beautifully to illustrate his journeys.
Well worth a visit.
Whilst the "month" maybe be drawing to an end, many exhibitions in Paris continue longer. This is the reason I have not yet visited or reported such icons as David Bailey, Gary Winogrand and William Eggleston. Head over to www.mep-fr.org/mois-de-la-photo/mdlp2014 for more information.
Enjoy!